Mobile Banking Applications
Available on Your Device of Choice
Our Mobile Banking App Has Been Upgraded
We are excited to announce a new mobile experience that includes the following upgrades:
A modern design and interface
New security features and settings
Biometrics for Android and iPhone users (Touch ID and Face ID)
The same features and functions you use today, but with an updated user experience
Watch your email for more information about the new app and when it will be available for download.
Important Notes:
NOTE: If you currently use Touch ID or Face ID to login, the first time you open the new app you will have to use your Access ID and Passcode. If you don't know your Access ID and Passcode, we encourage you to call us to have it reset before June 8th.
After your app is updated, you will be able to set up your Touch ID or Face ID again to resume using this convenient and secure way to access your mobile banking. We apologize for any inconvenience.
iPhone users: Once the new app is released, the next time you launch the Home Federal iPhone app, the new app will automatically replace the old version if you have automatic updates enabled. Otherwise, you will need to go to the Apple App Store to manually update the app. Some iPhone users may have to uninstall/reinstall the existing iPhone app in order to begin using the newest app. The first time you login to the new app you will also be presented with new Terms & Conditions to review and accept.
Android users: Android users will be required to remove the old application and download the new version from the Google Play Store once it's available. Access the new app here: Download Android App . You will be presented with new Terms & Conditions in order to use the newest Android application. Users who attempt to access the old application will receive the following message: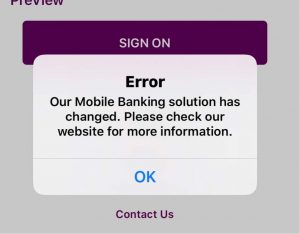 SMS/Text users: The number that you use to send and receive SMS messages will change on June 8th. Due to laws that require users to manually opt-in to receiving text messages from a new number, you will have to re-enroll in the service through online banking. Enrollment in SMS/text banking does not require you to have the mobile app.
*Apple, the Apple logo, iPhone and iPad are trademarks of Apple Inc., registered in the U.S. and other countries.  App Store is a service mark of Apple Inc. Android and Google Play are trademarks of Google Inc.